This post may contain affiliate links for products I mention. If you click a link and buy something I may receive some compensation. This does not change the price you would pay.
This Air Fryer Blueberry Muffins recipe is quick, easy and super delicious – more proof that air fryers aren't just for frying. They bake too!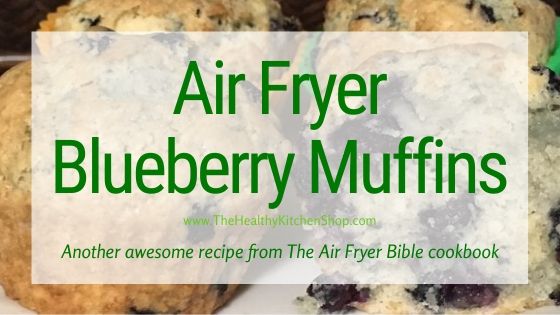 Baking In An Air Fryer? You Bet!
If you've only used your air fryer for frying, it's time to discover what you've been missing. Give baking a try, and chances are, you're going to be amazed.
Some of the many baked goods I've cooked in my Philips air fryer include biscuits, scones, cornbread, yeast breads, flatbread, cakes, cookies, brownies, and cobblers.
Add to that list a wide variety of muffins. There are savory versions such as corn muffins loaded with jalapenos, cheddar cheese, sausage, or hot dogs. Then there are all the sweet versions such as Morning Glory muffins, oat bran muffins, cranberry orange muffins, whole wheat muffins, and a recently published recipe for a very simple sweet muffin, Air Fryer Muffins For One.
Blueberry muffins have been one of my all time favorite foods since childhood. I even liked the kind that came in a box with the little can of wild blueberries. That was until I discovered the fabulous homemade recipes from the wonderful country cooks in my home town. You just can't beat scratch baking, and in this case it doesn't take long.
About This Recipe
Those who truly love blueberry muffins usually don't want you to mess with the basic recipe too much. I agree. I rarely alter the recipe below. Only once in a great while I'll go crazy and add a teaspoon of pure vanilla extract.
Otherwise to me these muffins taste just right as is. When fresh berries aren't available, frozen will work fine. I always use the smaller wild blueberries, but that's just personal preference.
If you don't have any foil baking cups, you may want to double your paper cups just to be sure they're sturdy enough to stand up to the batter. If you bake muffins often you should consider the silicone muffin cups. They're very inexpensive, dishwasher safe on the top rack, and almost nothing ever sticks to them.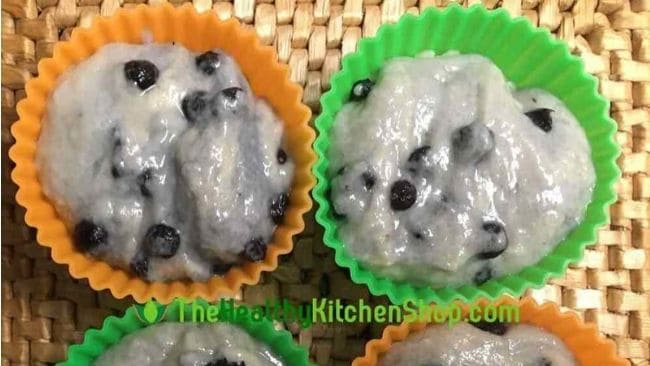 To me they're even better than an air fryer muffin tin because you can fit more of the little individual cups into the air fryer basket. Below are the ones I use, and you can click the image to see them on Amazon.
Blueberry Muffins Recipe – from The Air Fryer Bible Cookbook
Air Fryer Blueberry Muffins Recipe
Prep Time:

10 min

Cooking Time:

12-14 minutes per batch (2 batches)

Total Time:

34-38 minutes

Yield:

8 muffins
Recipe from The Air Fryer Bible Cookbook – © 2018 Susan LaBorde and Elizabeth Hickman. All rights reserved.
Blueberries are a super food and available year round because you can always find them frozen. The absolute best, though, are muffins made with freshly picked blueberries and served for a lazy summer morning breakfast.
INGREDIENTS:
1 1/3 cup flour
1/2 cup sugar
2 teaspoons baking powder
1/4 teaspoon salt
1/3 cup oil
1 egg
1/2 cup milk
2/3 cup fresh blueberries, or frozen and thawed
8 foil muffin cups with paper liners (or silicone baking cups)
DIRECTIONS:
Preheat air fryer to 330 F.
In medium bowl stir together flour, sugar, baking powder, and salt.
In separate bowl combine oil, egg, and milk, and mix well.
Add egg mixture to dry ingredients and stir just until moistened.
Gently stir in blueberries.
Spoon batter into muffin cups.
Place 4 muffin cups in air fryer basket and bake at 330 F for 12 to 14 minutes, or until tops spring back when touched lightly.
Repeat previous step to cook remaining muffins.
© 2018 Susan LaBorde and Elizabeth Hickman. All rights reserved. No part of this recipe may be reproduced or transmitted in any form or by any means without prior written permission.
Want more recipes like this? Click here to see The Air Fryer Bible on Amazon.



You may also like: