This post may contain affiliate links for products I mention. If you click a link and buy something I may receive some compensation. This does not change the price you would pay.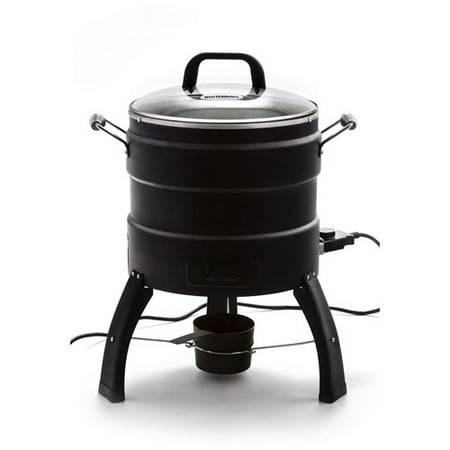 Or find it on Amazon:

Rating: 4.3 Reviewed by Susan
Compared to the very popular Char-Broil The Big Easy, the Masterbuilt Butterball Oil Less Turkey Fryer sells for less (price recently lowered) and gives you a slightly larger cooking capacity. It's also completely electric, which many consider a huge advantage since you don't have to buy gas or fool with a propane tank.
One drawback with the Butterball oil less fryer is that Masterbuilt doesn't make accessories like extra cooking racks or rib hooks. Those items can be very handy but aren't necessarily a deal breaker. In fact, researching several hundred consumer reports reveals that complaints are rare, and satisfaction runs very high with both product quality and cooking results. It's the perfect choice for cooking healthier, delicious turkeys and other foods, without oil and without need for propane.
The review below covers the Masterbuilt Butterball Oil-Free Electric Turkey Fryer and Roaster Model #20100809. This is an electric powered greaseless turkey fryer with an 18 lb. cooking capacity and a built-in wood chip box for adding smoked flavor. It is completely electric and for outdoor use only.
Features
Maximum Capacity: 18 lb Turkey
1,650 Watt Electric Element
Thermostat Temperature Control
Tempered Glass Lid
Removable Drip Pan
Built-in Wood Chip Box
Includes Roasting Basket with Lift Hook, Turkey Stand & owner guide
90 Day Limited Warranty
Even die-hard lovers of deep fat rate this model excellent on taste. Yes, there's a slight difference from traditional oil frying, but the vast majority consider that a very minimal trade-off for the savings in calories and fat and the excessive cost of peanut oil.
It gets an A+ for "moist and tender" too, giving delicious results on turkey plus numerous other types of poultry and meats such as chicken, wild game, prime rib and other beef roasts, pork loins, ham, and lamb shoulders.
The Butterball oil less fryer has a double wall construction, and like the Char Broil infrared turkey fryer, it uses radiant heat to produce a crisp exterior while sealing in juices to keep your turkey tender and moist inside with a nice little crispiness to the skin. Using an infrared turkey cooker is as close as you can get to delicious deep-fried taste without the fire risks and unhealthy side effect of gallons of grease.
Before you buy, it's important to know what to expect with oil less turkey fryer cooking times. You should only ever judge doneness by using a meat thermometer, but a general rule for turkeys is about 10 minutes per pound. Times can vary, but for the most part your Butterball air fryer will cook a turkey faster than a conventional oven but slower than a deep fat fryer.
While it does have a wood chip pan, don't plan on this to serve as a perfect substitute for a good meat smoker. As is often the case, a "double duty" appliance can do well on what it's designed for but usually not so great on its secondary uses. You can expect a little added smoky flavor, but not the heavy penetration and pronounced flavor you get from a true meat smoker.
Not that you'll be disappointed because you can season your turkey as you like. It can be brined ahead of time, and injectable marinades work well too. Since you won't be dunking it in an oil bath to cook, you can also use seasoned rubs, and they won't get washed off before the flavors can soak in.
If you've just got to have that not-so-healthy gravy, there's a removable pan to catch the drippings for you. But then, you might just discover that with this cooking method even the white meat of your turkey turns out so juicy and flavorful that you don't need gravy. Personally, I recommend that for best results, always buy a Butterball brand turkey. In all my years of turkey-eating experience, they are the best tasting and juiciest birds you can buy, bar none!
If you're thinking of buying this for your Thanksgiving turkey, be aware that during the holiday season demand gets so high that stocks can run out. Of course there's no way to predict whether that will happen again this year. In any case, once you own it, chances are that you'll use it a lot more often than you thought ‐
it cooks a lot more than just turkey;
it's great for hot weather when you don't want to heat up your kitchen;
it's great for any-time crowd cooking to leave your oven free for other dishes;
and it's also a great alternative for anyone with peanut allergies, since peanut is the oil of choice for deep frying.
(And do I have to repeat, it's healthier!)
(Back to Top)
Size & Capacity
Exterior Dimensions: 18 inches X 23.2 inches X 26.2 inches
Weight: 28 pounds
Interior Capacity: Maximum capacity for this fryer is an 18 pound turkey.
What's Included with the Butterball Oil Less Fryer
Roasting basket with lifting hook
Cooking rack and Turkey stand
Removable drip pan
Wood Chip box
Clear, tempered glass lid
User guide
The turkey stand is an especially nice feature as it holds the bird upright for more even browning and crisping of the skin without grid marks from the basket.
The lid, basket, cooking rack and turkey stand are all dishwasher safe.
The user's guide is very basic. Mainly it consists of assembly, use & care instructions plus safety notices, but it does include a few recipes. You won't find the manual on the manufacturer's site, but if you want to check it out it's available online here: Butterball Oil Free Turkey Fryer Operation Manual & Safety Instructions Model 20100809
Optional Accessories
There are no accessories made specifically for this model. It comes with everything you need, as described in "What's Included" above.
The good news is that you don't need to count on any added expense for extras. The bad news is that you don't have the option to purchase a second rack for cooking multiple foods at once or other handy little accessories like leg racks or kabob holders.
(Back to Top)
Customer Reviews
The overall average rating for this model looks a little low, but in fact out of right at 900 online reviews, only 101 rated it with 1 or 2 stars. As well, many of those low ratings are unfair. For example, they ranked it low because they didn't realize it is for outdoor use only, or they didn't know it takes longer to heat up and cooks slower than a deep fat fryer, or they were disappointed because they couldn't find recipes online. All of these bad reviews were written prior to 2013, most during 2012 or before.
At least one user claims you get a slightly better taste with a propane cooker, but by and large most others prefer electric so they don't have to fool with buying gas and using a propane tank.
Others are most unhappy with the amount of time required for the unit to preheat before cooking. With any appliance it's always possible you could receive a defective product, but several other factors come into play here. First is that air fryers are, by nature, slower to heat up and to cook. The usual pre-heating time can range from around 30 minutes to 1 hour, possibly longer.
Second is that in extremely cold or windy climates your fryer will do better reaching and maintaining the desired temperature if you can place it where it gets a little shelter from the elements. Note: This cooker is not for use inside a garage or other closed space.
Most important is to follow the manufacturer's instructions and never use an extension cord. In addition to being a tripping hazard, it causes enough energy loss that the fryer cannot heat properly.
Finally, be aware that you don't want to plug this fryer into an outlet that is on the same circuit with another appliance that pulls a lot of current.
While the Butterball turkey fryer doesn't have the extensive track record of its competitor, over 600 customers give it a 5 star rating. Positive comments mentioned most often include:
simple assembly and easy to operate
fast clean up, no greasy mess
turkeys, chickens and other meats come out juicy and delicious
no need for constant basting and babysitting like cooking in oven
easier to use than propane and eliminates cost of gas
fewer safety risks than deep fat fryers
(Back to Top)
Pros
cook without grease – healthier, cheaper, and not so messy
largest cooking capacity available (up to 18 lb. turkey)
excellent reputation for cooking moist, tender foods with nice crisping
no propane tank required
Cons
long time required for pre-heating
cooker temperature subject to drop in extreme climates
no accessories available, not quite as versatile as its competitor
not a substitute for a meat smoker – does not produce intense smoked flavor
warranty period only 90 days
Note that the warranty on all Char-Broil brand products is only 90 days, which seems quite short. That said, I did find a few reports of defective units, and in every case it seems that the manufacturer stood behind the product and made an effort to resolve the problem.
Butterball Oil Less Turkey Fryer Review: Summary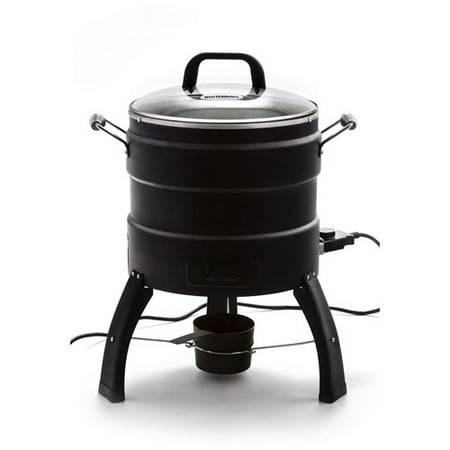 On balance, the legitimate complaints about this model are relatively few. Cost is very reasonable, and you won't have the added expense of any accessories. Downsides include the fact that the warranty period is rather short, and you don't have quite as many cooking options as you do with The Big Easy (like hooks for ribs or a second cooking rack). However, the Butterball Oil Less Turkey Fryer has a solid reputation for producing moist, tender results and delicious flavor on turkeys and a wide range of other meats, poultry and game. This cooker is a great choice for anyone who wants a greaseless turkey fryer but does not want to have to deal with a propane tank.
Or find it on Amazon:

(Back to Top)
More Choices – See This Chart to Compare Features Side-by-Side:

Butterball Oil Less Turkey Fryer vs. Char Broil The Big Easy Oil Less Turkey Fryer