This post may contain affiliate links for products I mention. If you click a link and buy something I may receive some compensation. This does not change the price you would pay.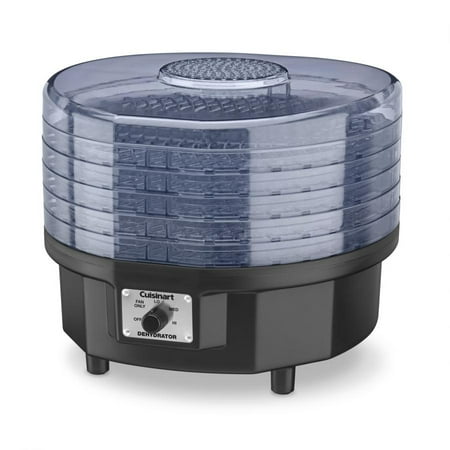 Check Walmart Price
At last check this model was not available on Amazon, but you can try this link to see if it is back in stock: Find Cuisinart Food Dehydrator at Amazon
Rating:
4.2
Reviewed by
Susan
The Cuisinart Food Dehydrator (model DHR30) is a very basic unit that may be suitable for those who want to try dehydrating without spending a lot. This is not the best machine for experienced users or anyone who plans to do frequent or heavy processing.
This slightly oval shaped food dehydrator comes with 5 trays and is expandable up to a total of 9 trays (the 4 additional trays must be purchased separately). It has a bottom-mounted fan, no timer, and very limited temperature control.. As you'll learn in our review, it seems to have more drawbacks than benefits, yet almost 80% of owners rate this model at 4 or 5 stars. Read on to get all the pros & cons!
---
For a better value, be sure to check out our Nesco comparison chart, which includes some other models in this price range.
For a high end dehydrator, please see our Excalibur Dehydrator Comparison Chart.
---
Features
5 Trays (stackable, interlocking)
Expandable to up to a total of 9 trays
Includes 1 Fruit roll-up sheet (for fruit leathers, liquids, and semi-liquids)
Adjustable temperature (limited to only 5 settings: off, fan only, lo, medium, or high)
3 Year Limited Warranty (requires $10 return shipping fee)
One of the biggest downsides to the Cuisinart dehydrator is its main control. It is called an "adjustable temperature feature", but in fact you cannot set the unit to process at a specific temperature. Rather, you can only select from Off, Fan Only, Low, Medium, or High. If you plan to process a variety of foods this can be a major drawback. For example, jerky needs a temperatures high enough to ensure it's safe for consumption, while many other foods need temperatures low enough to avoid destroying nutrients. For best results with this dehydrator, it would be a very good idea to use an appliance thermometer to be sure you process at the proper temperatures.
This unit has a bottom mounted fan and is vented at the top. While that design does draw out moisture, it makes food on lower trays dry faster than that on upper trays. The manufacturer recommends that you tend the machine during processing and rotate trays as needed. Depending on what you are drying, be prepared to rotate trays as often as every hour or so.
…as purchased, this machine will not process very small foods such as nuts or chopped fruits or veggies. Anything too small will fall through the openings in the trays…
Another problem with a bottom mounted fan is that it's hard to protect the fan from crumbs and dripping foods. That makes cleanup much more difficult, and the fan or motor could even suffer damage from food falling into it. One possible solution would be to always place the fruit roll-up sheet on the bottom tray to catch anything that falls from upper trays.
Another design feature that some may consider to be a downside is that as purchased, this machine will not process very small foods such as nuts or chopped fruits or veggies. Anything too small will fall through the openings in the trays, and Cuisinart does not make mesh-type screens or any kind of tray inserts to accommodate these foods. You could try using tray inserts from another manufacturer, but they aren't going to fit well because of the unique oval shape of the trays in the Cuisinart dehydrator.
→ As a solution to this, some users suggested buying various types of craft materials and cutting to size (for example, the kind of plastic mesh used for cross-stitch). That's certainly possible, but be careful what you buy. Make sure the plastic is BPA free – otherwise, at high temperatures you may pretty much defeat the purpose of trying to eat healthier food!
On a positive note, almost 500 people who have purchased this unit give it a five star rating. They find the limited temperature settings to be adequate and report good results with a wide range of foods. Many also like the fact that it is easy to operate, runs quietly, and has a large capacity. With 620 Watts, it will dry foods much faster than lower wattage units or those without a fan.
(Back to Top)
Wattage & Voltage
Wattage: 620 Watts
Voltage: 110V
Color & Materials
Unit is made of plastic with a black base and clear top.
Made in USA? BPA Free?
The manufacturer's website makes no reference to where this product is made. In online reviews, customers who have actually purchased this product state that the bottom of the unit says "Made in China".
The Cuisinart company website now states that this dehydrator is BPA-free.
Size & Capacity
The Cuisinart DHR-20 Dehydrator weighs 8.7 pounds and measures 12″ long by 14″ wide by 10.25″ high.
The 5 trays included with the unit give you a total dehydrating surface area of 522 square inches. The slight oval shape of the trays makes for less wasted space with some foods, such as long strips of meat when making jerky.
(Back to Top)
What's Included with the Cuisinart Food Dehydrator
The instruction booklet contains only a handful of recipes. Click here to see this owners manual online. To get the most from your dehydrator, especially if you are inexperienced, check out our dehydrator cookbook guide.
Optional Dehydrator Accessories
Extra drying trays – may be impossible to locate
Additional trays used to be available on Amazon and also from the manufacturer for around $11 each. At present (July, 2018), these trays are not available anywhere online. That is, they are not listed as "out of stock". Rather, to the best of my knowledge they do not exist.
On the outside chance that you do locate extra trays, this dehydrator is designed to handle up to a total of 9. Of course, the more trays you stack, the more you may have to rotate them while drying some foods.
Extra Fruit roll-up sheets – may be impossible to locate
If you're buying a dehydrator to make fruit leather, Cuisinart is probably not the best model for you!
Be sure to note that this dehydrator includes only one solid sheet. Extras must be purchased separately, and they can be very hard to find. The only current source I can locate is the Waring Pro Site, and at this writing (July 2018) they are out of stock. (Waring Pro is a sister brand owned by Cuisinart, and this dehydrator was originally branded with the Waring Pro label.)
Occasionally – but not often – you may also find a very limited supply of these sheets at eReplacementParts.com.
While most dehydrator trays are square or rectangular, Cuisinart trays are slightly oval shaped, so it's hard to find a substitute or generic sheet that will fit.
Customer Reviews
As mentioned above (in the "Features" section), a considerable number of customers are very satisfied with the Cuisinart and give it a five star review. It's worth noting that a good many of those top ratings are by people who have never owned a dehydrator before, or who have never had one with a fan.
Overall, online reviewers tend to be one extreme or the other – they either love it or hate it. The most concerning negative reviews were from those reporting that their Cuisinart burned up or quit working after less than 10 uses. This unit does have a 3 year limited warranty, but to return a unit you must include a $10 return shipping fee.
(Back to Top)
Pros
Great capacity at a reasonable price
Expandable – works with up to a total of 9 trays
Adjustable Thermostat – even limited setting options are better than no temperature control at all
Cons
No automated timer
Very limited temperature control
Bottom mounted fan – requires tray rotation for even drying and makes cleanup job harder
Includes only 1 fruit roll-up sheet, and extras are usually unavailable
No mesh inserts available – you have to improvise
Additional trays may be impossible to find
Questionable durability (based on reports of early motor demise)
Cuisinart Food Dehydrator Review: Summary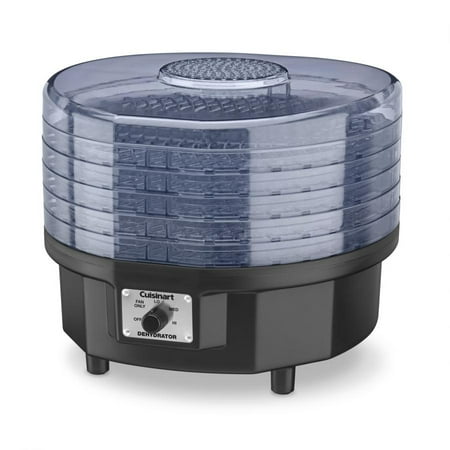 Check Walmart Price
At last check this model was not available on Amazon, but you can try this link to see if it is back in stock: Find Cuisinart Food Dehydrator at Amazon
Cuisinart is a well-known brand that makes a lot of quality products, and they do offer a 3 year warranty on this machine. It has a standard 5-tray capacity that can be expanded. Yet it also has a lot of drawbacks: limited temperature control; bottom mounted fan; no tray inserts for small foods; and no reliable source for fruit roll-up sheets; no known source for purchasing additional trays. All things considered, the Cuisinart DHR30 might be a good choice for some, but it isn't at the top of our list, and it is definitely not for fruit leather lovers.
May we suggest…

You might want to read our review of the Nesco Snackmaster Pro. It doesn't cost that much more, and it gives you lots more value for your money.
(Back to Top)