This post may contain affiliate links for products I mention. If you click a link and buy something I may receive some compensation. This does not change the price you would pay.
Below is Oprah's 2015 list, and it has lots of great ideas. We do our best to remove any products that become unavailable over time, but if you find one we missed please leave a comment below to let us know!
One of the most fun and exciting lists that comes out every year during the holidays is Oprah's Favorite Things. This year the entire 2015 list is on Amazon. It includes everything from apparel to electronics to well, you name it!
For The Healthy Kitchen Shop visitors, we've gone through Oprah's Favorites to bring you this idea list of her gifts for kitchens and cooks. Prices range from a little to a lot, and there is truly something for just about every taste. Enjoy!
Click any of the links below to see these gifts on Amazon.
---
---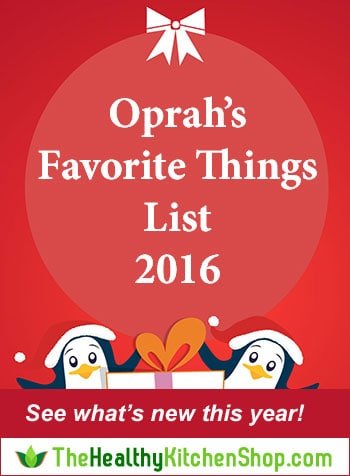 ---
You may also like…