This post may contain affiliate links for products I mention. If you click a link and buy something I may receive some compensation. This does not change the price you would pay.
Reviewed by Susan
Here's a quick reference chart that gives you a side-by-side comparison of the two best selling oil less turkey fryers. For in depth detail on each one, click the "Read Review" links shown in the table. Below the chart you'll also find an overview explaining the main, and most important, differences between the two models. (Click here to skip down this page and read: Oil Less Turkey Fryers: Char-Broil The Big Easy vs. Butterball Oil Less Turkey Fryer.)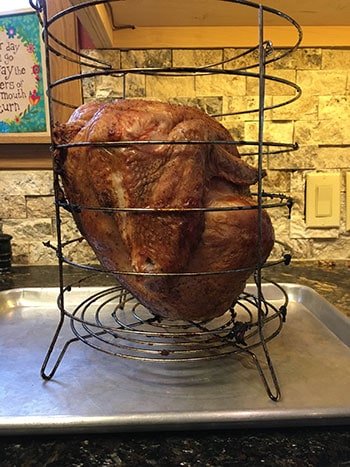 Note: Both models, Char Broil The Big Easy and Butterball Oil Less Turkey fryer, are infrared turkey cookers that allow you to cook "fried" turkey without all the grease, and both are designed for outdoor use only.
Pictured at right is our 2017 Thanksgiving turkey. My apologies for the background clutter in the photograph, but we were in the midst of happy cooking chaos and I just snapped this quick shot with my phone.
Photography aside, this bird was tender, juicy, and absolutely delicious! It was cooked in the Char Broil "The Big Easy", which is the oil less turkey fryer of choice among all my relatives.
In our collective experience, the two main keys to success are:
Preheat your fryer before loading it with the turkey.
Most importantly, make certain that your turkey is completely thawed before cooking.
That second point is vital. When you're frying with air, you must be certain that your turkey is completely thawed, through and through. Plan ahead, follow instructions on your bird for safe thawing, and enjoy fried turkey without the gallons of grease.
Oil Less Turkey Fryers


Model

Char-Broil The Big Easy
TRU-Infrared®
Oil-less Turkey Fryer

Butterball Oil-Free Electric
Turkey Fryer and Roaster
(Masterbuilt 20100809 )

Read Review
Read Review
Use
Outdoor Only
Outdoor Only
Type
Propane
Electric
Exterior Dimensions
21.1 x 20.7 x 24.5 inches
18 x 23.2 x 26.2 inches
Weight
35 lbs.
28 lbs.
Maximum Capacity
16 lb. turkey
18 lb. turkey
Heat Source
16,000 BTU burner
1,650 Watt electric element
Requires Propane Tank
Yes
No
Unique Features
Patented Infrared Cooking Technoloby
Rotary Ignigion
Cool Touch Handles
Thermostat Temperature Control
Tempered Glass Lid
Built-in Wood Chip Box
Includes
Cooking Basket with Lifter
Removable Drip Tray
Meat Thermometer
Owners Guide
Roasting Basket with Lifting Hook
Cooking Rack and Turkey Stand
Removable Drip Pan
Wood Chip Box
Owners Guide
Optional Accessories
(Sold Separately)
Leg Rack
Rib Hooks
Kabob Holder Set
Accessory Pack
Bunk Bed Basket
CoverHinged Cooking Basket
None
Warranty
1 Year Limited
90 Day Limited
Average Customer Rating
4.7
(based on approx. 2,500 reviews)
4.3
(based on approx. 900 reviews)
Price Range
Just under $100
Just over $70
See Today's Price at Walmart
Walmart
Price
Walmart
Price
Find it on Amazon
Amazon
Amazon
Oil Less Turkey Fryers: Char-Broil The Big Easy vs. Butterball Oil Less Turkey Fryer
Propane vs. Electric: Probably the first most important decision is whether you want propane or electric. Only a tiny number of users feel that you get a little better cooking results with a propane turkey fryer. For the most part, taste isn't a factor. More often it depends on whether you're comfortable using gas, as well as whether you already own a propane tank. If you don't, then you'll have to factor that in as an added cost of the Char-Broil brand because the propane tank is not included. Over time you'll also have the added expense of gas, but the average user considers that a very minimal expense.
Total Cost: The price difference between these two greaseless turkey fryers is less than $10, but that might be a little deceiving. The Butterball (by Masterbuilt) has no optional accessories, so there is nothing else to buy. That's great for your pocketbook, but it also means that it's a little less versatile as you can't add a second tier cooking rack or other handy extras.
With The Big Easy, you can select from a variety of accessories that Char-Broil designed specifically for this unit. Individually, none of them are expensive (some are only $10 or $12). More often than not, owners are so pleased with the results they get from their infrared turkey fryer that they it year round for cooking all sorts of foods. Accessories like the leg rack, rib hooks, and kabob holder can be very useful. The most popular extra is the bunk bed basket, which lets you do things like cook two whole chickens at once or use that top rack for vegetables and other side dishes. If you're comparing prices, just be aware that purchasing any or all of the accessories is going to add to your overall cost. But then, you may decide it's worth it because it allows you to get a lot more use out of your turkey fryer.
Finally, if you don't already own a propane tank, then you could choose the electric turkey fryer to save yourself that added expense
Unique Features: One other difference worth noting is that the Butterball Oil Less Turkey Fryer includes a built-in wood chip box. That does not mean that this cooker will replace a good meat smoker. It will not give you that deeply penetrated, intense smoked flavor you get from meats cooked in a true, traditional meat smoker. However, what it will do is add a little extra smoky flavor to enhance the taste of your Thanksgiving turkey and other poultry and meats.
Want More Info About These Two Oil Less Turkey Fryers?
If you've just started shopping for an oil less turkey fryer, you may want to find out more about what you're getting before you buy. You can click the links below to read detailed reviews of the Char Broil Oil Less Turkey Fryer and the Butterball Oil Less Turkey Fryer and Roaster:
Char Broil The Big Easy Oil Less Turkey Fryer Review
Butterball Oil Less Turkey Fryer and Roaster Review