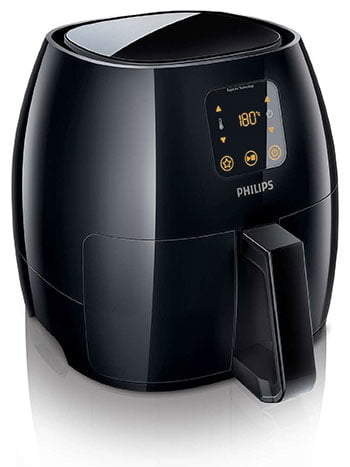 See the lowest price listing I've found on Amazon:
Rating: 4.3 Reviewed by Susan
The large sized Philips Airfryer XL, Model HD9240, is part of the Avance collection and relatively new on the market. As interest in oil-less cooking continues to grow by leaps and bounds, this manufacturer is working to offer consumers the options they want and need. This is a full featured 1,800W air fryer with a 2.65 pound cooking capacity and a digital interface. It even includes a "smart" preset button that you can use to save custom settings for a favorite reicpe that you cook most often.
Be warned that it's not a small appliance, but if you've got the space it could well become one of the most used gadgets in your kitchen. Air fryers offer you a great way to cook a variety of foods that are delicious and healthier too. Read on to find out if this model is the best choice for you.
Table of Contents
Click a topic to read ahead!
Features
2.65 Pound Capacity
1,800 Watts
Digital Touch-Screen Controls
Adjustable Temperature up to 390°
60 Minute Timer
Auto Shut-Off & Alert Signal
Preset Cooking Functions
"Smart" Preset for Favorite Setting
On/Off Switch and Power Indicator Light
Patented Rapid Air Technology
Dishwasher Safe Parts
Internal Cord Storage
Non-Slip Feet
Available in Black or White (same price)
1 Year Limited Warranty
For many people, one of the most important advantage of the Philips Airfryer XL is size. Compared to other models by this manufacturer, this one is considerably larger, giving you almost 50% more in interior capacity.
Unlike other Philips airfryers, this model also includes a preset button that allows you to save custom settings. If you have a favorite food that you cook often, you can use this button to program the unit to memorize those particular time and temperature settings.
→ Note that this feature does not give you unlimited options. You can change your memorized settings any time, but the unit can only "remember" one preset at a time.
At 1,800 Watts, the Philips Airfryer XL is about 30% more powerful than other models from this manufacturer. For comparison, the HD9220 and HD9230 are 1425W. (For complete details you may wish to read this review of the HD9220 and HD9230.)
As you can see from the list above, this model boasts all the built-in features Philips is known for. That includes its patented Rapid Air Technology which is designed to circulate hotter air faster and produce better results. This same technology is used in other Philips models, and they have a reputation for cooking evenly and quickly so that foods are properly done on the inside with a nice crispy outside.
The HD9240 also has non-slip feet, cord storage, dishwasher safe parts, and all the other design features that make for convenient and easy use.
It always puzzles me that with some appliances there can be a huge price difference depending on which color you choose. This case is different. The XL model comes in black or white, and the price is the same for either color.
(Back to Top)
Size & Capacity
Exterior Dimensions: 16.7″ deep x 12.4″ wide x 11.9″ high
Interior Capacity: 2.65 pounds
Weight: 19 pounds
At right is a view of the unit with the basket open. Unfortunately, Philips does not give interior cooking capacity in volume like other manufacturers. It may help you to know that the cooking basket of the standard size Philips air fryers (such as the 9220 and 9230) measures 7.25 x 7.25 inches, so if that does not sound large enough then you will want to consider this XL model.
What's Included
No additional accessories are included. Yes, this model costs more than those that do come with accessories, but in this case you're paying a higher price for the extra large capacity.
The Airfryer XL does include a booklet, but it contains only a few recipes, so don't count on getting a full cookbook. (For links to free recipes and also to cookbooks for sale, see our Air Fryer Cookbook & Recipe Guide.)
Optional Accessories
Grill Pan for Philips Avance, XL (model 9240): Non-stick coated and dishwasher safe, the grill pan has a perforated, ridged surface designed to allow for air flow when searing or "grilling" meats, seafood or vegetables.
Airfryer Double Layer Rack with Skewers for Avance, XL (model 9240): This non-stick coated rack allows you to double the available cooking surface inside your airfryer so you can cook more at a time. The included skewers can be used for meat or veggie kabobs. Both rack and skewers are also dishwasher safe.
BAKING PAN
I've written an entire post on why the baking pan is such a great accessory. At this writing Philips has yet to make such a pan for its XL model. However, there are (finally!) some other options:
One is the Air Fryer Cooking & Baking Accessory Pack. 3 Piece Airfryer Accessories Pack – Dishwasher Safe made by Simple Living Products. This set includes a deep baking pan, shallow pizza pan, and a rack with skewers, as you can see pictured at right.
The other option is made by Hiware. It does not include a rack, but it costs less and is of excellent quality. I own the smaller accessories from Hiware and can vouch that the pans are every bit as good as Philips brand pans. Unless you really want the rack, these pans are high quality at a great price. Check it out on Amazon: [XL-VERSION] Air Fryer Accessories XL – Fits All 5.3 – 5.8QT – Non-Stick Barrel / Pan + Silicone Mat + Air Fryer Recipes, Compatible with Power Air Fryer XL / Philips Avance XL HD9240 / GoWISE USA XL
Important: Note that due to the size difference in Philips airfryers, you need to be sure to purchase the correct accessory for your specific model.
(Back to Top)
Customer Reviews
Now that this model has been out for a while, I've found over 260 online reviews, and 80% of them are positive. In the reviews that are negative, several of the worst ratings were given by people who were expecting their home breaded chicken pieces to turn out tasting exactly like fast food deep-fried chicken. Other very low reviews were filtered out of the average because they involved complaints like "it's too big and overpriced", just a matter of opinion that has nothing to do with product quality or performance.
A few reviewers gave lower ratings because they were disappointed to discover there is a learning curve. That is to be expected since air frying is actually a different cooking method that may take a little getting used to. I'm the first to admit that I tend to get set in my ways, but every now and then it really is worth taking the time to learn a new trick.
One example is in the complaints you'll find about foods turning out too dry. Remember that Philips does not claim that you can cook completely oil free. The point is that you only need a tiny bit of oil. In many cases all it takes to prevent foods from drying out is a very light spritzing of oil before cooking.
The only other legitimate complaint is from users who experienced smoking during cooking, and a few reports claim it was enough to trigger a smoke alarm. According to the manufacturer this is caused by a build-up of grease from cooking high-fat foods. Obviously, the cooking pan should be cleaned thoroughly after every use. If excessive smoke is a problem, you may also need to clean the heating element. (See the owner's manual for safety instructions on cleaning. To see how easy these appliances are to clean, see our article "How to Clean Your Philips Airfryer".)
Otherwise, the HD9240 gets the same high praise from consumers as the other airfryer models made by Philips. It receives excellent marks for typical foods such as French fries and chicken fingers. Many owners concede that for other foods it may take a bit of experimenting, but overall they're delighted with results on a wide range of dishes, from coconut shrimp to meatballs. Most agree that once you get the hang of cooking in an air fryer, you'll get much more use from it than you may have expected.
(Back to Top)
Pros
extra large capacity
extra power (wattage)
digital controls, including custom preset
timer, auto shut-off, & other convenience features
produces quality results with little to no oil
Cons
very large appliance for countertop or storage
heavy enough that some may find it hard to move
may produce smoke from excess grease buildup
involves some learning curve (true with all air fryers)
Philips Airfryer XL Review: Summary
There is no question that reducing the amount of fat in your diet is a wise decision for your health. The trade-offs are that you may need a little patience learning a new cooking method, and you need to have reasonable taste expectations. Airfried chicken may not be an exact match for deep fried, but most agree that the slight difference is well worth enjoying all the benefits of healthier eating.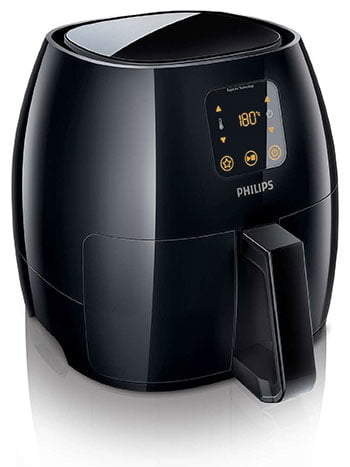 The Philips Airfryer XL, model HD9240 in the Avance collection, is one of the largest capacity units on the market. It offers all the basic features you should expect, plus extra power and some unique conveniences such as the preset cooking function. Dishwasher safe parts make cleanup easy, and whether you prefer black or white, you won't pay extra for your color preference. This model is a good choice for fried food lovers who want to eat healthier, and especially for those who entertain often or cook for a family.
(Back to Top)