This post may contain affiliate links for products I mention. If you click a link and buy something I may receive some compensation. This does not change the price you would pay.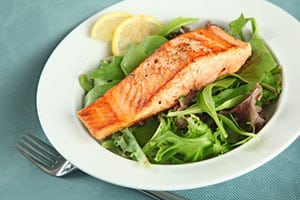 Salmon is one of my favorite foods, and I've eaten it cooked all sorts of ways with all sorts of seasonings. It would be hard to choose only one recipe that is my favorite, but this one is definitely at the top of the list!
Here's why I love this recipe so much:
It's absolutely mouth-wateringly delicious!
It's low in calories and fat.
This has to be the simplest recipe on earth – only two ingredients!
By eating this, you're actually donating to charity. No, I'm not kidding.
So here's the super easy and exceedingly wonderful recipe for my Awesome Grilled Salmon.
Ingredients

Salmon fillets

Newman's Own Low Fat
Sesame Ginger Dressing

Directions

Marinate salmon fillets in dressing for about 30 minutes. Place fillets on indoor contact grill and cook until fish is as done as you prefer. Serve, eat, and be amazed!
Honest, that's all there is to it, and you won't believe how good this is! (I suppose some people might want to add a little salt, but to me it's perfectly delicious without it.)
About the One Special Ingredient – Newman's Own
Other than your salmon, the only ingredient you need is Newman's Own Low Fat Sesame Ginger. This stuff is wonderful! Not only that, it's all natural, and all profits go to charity. Also, it's low fat. Does it get any better than that?
If your local stores don't carry the this particular Newman's Own, you can order it online at Amazon. Or buy online in case you forget to add it to your grocery list, or just to save yourself a trip to hunt for it. Time was that I would never have thought of buying groceries online, but I'm doing it more and more these days. Most items don't cost any more than what I'd pay at a local store plus the gas to drive there. Besides, I'm busy, and I don't even mind paying a little extra to save myself some time.
Cooking Time – Rare, Medium, Well Done?
As for cooking time, that depends on individual preference. Personally, I don't eat rare fish. I'm sorry, I know tuna and salmon are supposed to be best when cooked rare to medium rare, but I just can't handle it. I go for completely done all the way through, so the salmon flakes easily. That's why it's so important to use a contact grill. Why? Keep reading…
One Very Important Tip – Use an Indoor Grill!
Needless to say, you can cook this on any kind of grill, but hands down, you will get the best results on an indoor grill. I don't mean a griddle or a stove-top grill pan. I mean a countertop contact grill like the Breville Smart Grill, Cuisinart Griddler, or any of the other indoor grills we've reviewed on this site.
The reason contact grills work best for this recipe is that the closed grill applies heat to both sides of the fish at once. This makes the salmon cook very quickly, which keeps it extremely moist and tender (even if you like your fish well done like me!).
---