This post may contain affiliate links for products I mention. If you click a link and buy something I may receive some compensation. This does not change the price you would pay.
The individual air fryer reviews on our site go in depth to give you lots of detail. That's fine when you're interested in a specific model, but what if you have no idea where you want to start?
This buyer guide pulls it all together to give you a quick look at what's available. On this one page you'll find comparison charts and short air fryer reviews on all the major brands – from the highest priced to the relatively cheap, from the highest rated to the questionable but possibly worth considering.
Our goal is to help you save time and shop smart. Use this overview to make a wise decision fast. If you don't find exactly what you want to buy, you'll find links to the longer reviews where you can learn more about the models that interest you most.
Introduction
If you came here to read air fryer reviews, you've probably already discovered the benefits these appliances offer. Most important is that air fryers give you an alternative to old fashioned deep frying. The taste is very good, and it's a much healthier way to cook.
It's also much cleaner. You won't have a big grease spattered mess to clean up, and you won't have that deep-fried kitchen odor that can linger for days.
Which Air Fryer is Best?
As always, the answer to that depends partly on you. Are you cooking for 1, 2, more? Do you prefer manual or digital controls? Will you mostly cook chicken nuggets and fries, or is versatility important? Some models can handle everything from an omelet to baking a small cake. The best air fryer for you is the one that suits your individual needs.
My personal favorite is Philips. I own the HD9230 and 2 other Philips models and am extremely pleased with all of them. These machines were used for the development and testing of recipes for two cookbooks, a total of over 360 recipes. Consider that while some dishes may have only been cooked twice, many other required multiple tests in order to perfect the recipes. My co-author and I ran these fryers hours at a time for days on end, and even now they all still work perfectly. I give Philips my highest marks for quality construction, ease of use and cleaning, durability, performance, and excellent results.
For full disclosure, Philips did not give me these air fryers to try to get me to say nice things about them. I ordered mine from Amazon and paid full price like everyone else. Fact is, Philips is my top pick because I've used the brand and love it.
However, it's also one of the pricier brands on the market. For those who don't want to pay top dollar, there are certainly others worth considering. This overview is designed to help you decide what's right for you. It covers all the basics and also includes links to the individual air fryer reviews that provide much more detail.
Top 5 Air Fryers – Quick Comparison Chart
All of the models shown above also include:
timer with automatic shut-off
adjustable temperature settings
instruction/recipe booklet
optional accessories
The accessories are sold separately, with these two exceptions:
The Philips HD9230 ships with the Double Grill Rack included at no extra charge.
Nuwave does not sell its accessories alone. They only come bundled with a 3 quart model. You can see it on Amazon here – Nuwave Brio Digital Air Fryer, 3 Quart Capacity, with Reversible Rack, Baking Pan, & Recipe Book
(Back to Top)
Brief Air Fryer Reviews – The Top 5 Bestsellers
Following is a quick overview of each of the models in the above charts. If you need more information, click the link to read our full review, which includes complete details.
Philips AirFryer Avance XL Digital HD9240 Review
Big Model from a Big Brand Name!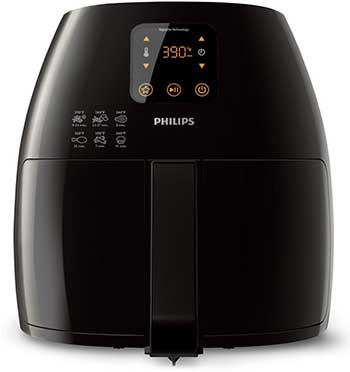 Philips is the leading manufacturer of air fryers, and the HD9240 is the largest model in their line. If you need extra cooking capacity, take a close look at this one.
This company is known for it's patented Rapid Air Technology because it is designed to give you the best results possible. With fast, even cooking, foods turn out nicely done inside and crispy on the outside.
This 1,800 Watt unit has an interior capacity of 2.65 pounds, and it gives you all the best features of an air fryer, including:
digital control panel (touch-screen)
60 minute timer and automatic shut-off with an alert sound
preset functions and adjustable temperature (up to 390°)
internal cord storage, non-slip "feet", and dishwasher safe parts
two color choices – black or white (no price difference for color)
One feature unique to this unit is the Smart Preset button that allows you to memorize a custom setting. That's very handy for a favorite dish that you cook often. Just program in the time & temp, and your air fryer will "remember" it for next time.
The Philips Avance XL gets high praise from consumers for performance and quality of the construction. Complaints are rare and generally due to user inexperience. Air frying is a new way to cook for most people, so don't be surprised if you experience a small learning curve.
What are the drawbacks? In a word — size.
The HD9240 isn't for everyone because it's a large appliance. Exterior dimensions are 12.4″ wide by 16.7″ deep by 11.9″ high. That can be a bit much for tiny kitchens, and at 19 pounds some people will find it hard to move around.
However, that size is also one of this model's best features. If you'll be cooking for a big family or if you enjoy entertaining often, the extra large interior capacity may be exactly what you need.
Click here to read our complete, detailed review of the Philips Avance XL Airfryer H#9240.
(Back to Top)
Philips AirFryer Review – TurboStar HD9641 Digital
Editor's Top Pick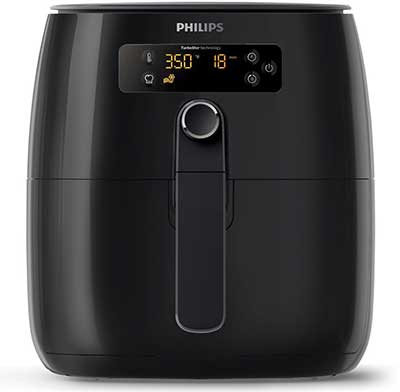 The next generation Philips TurboStar HD9641 is one of the newer models from this manufacturer and is already earning high marks from consumers.
This is a standard size air fryer (1.8 pound capacity), 1,425 Watts, with a digital display and a new QuickControl dial. It has all the standard features such as:
adjustable temperature
timer with automatic shut-off
some dishwasher safe parts
1 Year Limited Warranty
One new feature is a "Keep Warm" function, which you may find handy when all of your dinner items don't get done at the same time. (Although, this isn't usually a problem because air fryers do such a terrific job of reheating foods without degrading quality.)
The manufacturer redesigned the exterior of this unit so that it is now slightly slimmer than its predecessor. It still has the same interior cooking capacity, and it's still a fairly large appliance, but it will take up a bit less space on your counter.
Another improvement is the basket, which can be disassembled. You can remove the wire mesh bottom for easier cleaning, and the handle can be detached for more compact storage or for use on other parts such as the grill plate (sold separately). If you do buy the grill plate, you'll find that without the handle it doesn't take up so much cabinet space.
This model does not include any accessories, but they are available from Philips and also from other manufacturers. Our experience has been that you can find "off" brand accessories that offer excellent quality at a great price. Just be careful to order the correct size to fit your particular air fryer. Please see our detailed review of this model for complete information.
Philips is certainly not the only game in town. You will pay less for Nuwave or GoWISE, and you may be perfectly happy with either. However, Philips is editor's top pick because this is the brand I own, and it has proven to be top quality over and over.
As you might imagine, writing a cookbook involves endless hours of cooking. The Air Fryer Bible has over 200 recipes, and all of the developing and multiple testing was done in two Philips air fryers. My co-author and I literally abused those two air fryers, running them all day long every day, often with barely a pause between dishes. Neither air fryer ever faltered for a second, and both still work like a dream today.
My apologies if this sounds like some cheesy infomercial, but I am just totally sold on Philips. I'm sure it's possible to get a "lemon". That happens to the best of manufacturers. I just have not seen evidence of that, and my experience has been 100% positive.
Click here to read our complete, detailed Philips Airfryer Review of the TurboStar Model HD9641.
(Back to Top)
Philips HD9230/26 Digital AirFryer Review
Editor's Choice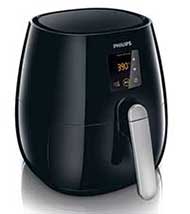 Still a bestseller, the HD9230 is an older original Philips model. Consumers give it high ratings for being very simple to operate and easy on cleanup.
Most notably, it gets rave reviews for performance, giving you great quality results on a wide variety of foods. Like the Avance XL, this model uses Rapid Air Technology, which is patented by Philips and was designed to mimic what oil does to make foods crispy on the outside.
This is a 1,425 Watt unit with a 1.8 pound cooking capacity. Unlike other Philips models, this one includes an accessory — the 9230 comes with the Double Grill Rack, which can double your actual cooking capacity for some foods.
Other features include:
digital, touch-screen control panel
60 minute timer and automatic shut-off with alert
adjustable temperature, up to 390°
internal cord storage, cool touch handles, and dishwasher safe parts
available in black or white (slight price difference)
free app with 150 air fryer recipes
One very user friendly feature of this model is that it has a "pause" button. That lets you stop the unit to check food for doneness, and it does not cancel out your timer setting. When you replace the basket and resume cooking, the timer will continue where it left off.
(For clarification on that, timers on the old GoWISE and some other models will not pause. If you stop the cooking process, those timers will automatically reset back to the original time you programmed.)
Once again, about the only drawback to this model is size. This is a standard size air fryer, which means you don't get as much cooking capacity as the Avance XL. At the same time though, it is still a fairly large appliance. Exterior dimensions measure 11.3″ x 12.4″ x 15.1″.
That said, if you have the space and want a delicious way to cook healthier, the Philips HD9230 is an excellent choice. It's a top-of-the-line digital model that includes the Double Grill Rack, and it has earned a reputation for quality results.
Editor's Note: This is my personal top pick for quality construction, great features, and excellent performance. I own it, I use it, and I'm very pleased with it. So far I have not found a lot of uses for the double grill rack. I do like the grill pan because it gives you some nice options for browning foods (just a bit of a different taste than cooking something like marinated chicken strips directly in the basket). However, my favorite accessory, hands down, is the baking pan! If you want to get the most from your air fryer, I highly recommend two things: that baking pan and some good air fryer cookbooks!
Click here to read our complete, detailed review of the Philips HD9230 AirFryer.
---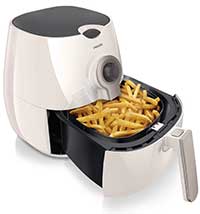 Manual Version
The unit described above is also available with manual controls. The model number is HD9220, which is pictured at right.
The manual 9220 model does not come with the Double Grill Rack, but otherwise it includes all the same features as the 9230 and has earned the same high ratings from consumers for its ease of use and cleanup, and for its quality performance.
You'll find more online consumer feedback on the 9220 simply because it's been around longer. In fact, the manufacturer advertises it as"the original air fryer". Whether Philips invented it or not, it was the first to gain widespread popularity in the U. S., and Philips remains a leading seller.
This model is a great choice if you don't mind manual controls. The Double Grill Rack will cost you extra, but if you don't want that anyway then the 9220 may be a better value for you.
Click here to read our complete, detailed review of the Philips HD9220 AirFryer.
(Back to Top)
Nuwave Brio 6 qt. Digital Air Fryer Review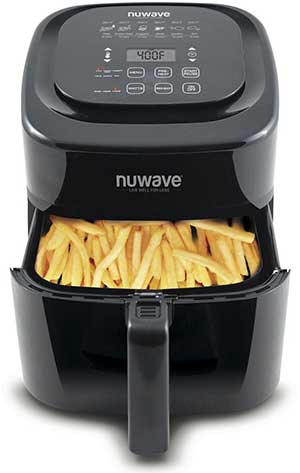 The Nuwave Air Fryer, also known as Nuwave Brio, may be familiar to you because it's one of the as seen on TV models. Pictured at right is the XL model that has a 6 quart cooking capacity, but the Nuwave is also available in a smaller 3 quart size.
Like its competitors, the Nuwave has these standard features:
digital control panel
adjustable temperature settings (100° to 400°)
dishwasher safe parts (top rack)
100 hour timer*
1 Year Limited Warranty**
* Yes, that's correct. At temperatures of 345° or less, you can actually set the timer for up to 100 hours. And yes, I'm completely baffled by that option too.
** Be aware that if you do have a warranty claim you may be required to pay shipping both ways. (See our complete review for a link to the manufacturer's warranty page.)
As mentioned in our detailed review, one consumer compared this model to the highly advertised Power Air Fryer XL (the other as seen on TV model). This one man's opinion is that construction quality of the Power Air Fryer is not as good as that of the Nuwave, and that the Nuwave is somewhat sturdier.
The most common complaint about this machine is the time it takes to preheat, up to 15 minutes. That is a very long time for an air fryer! There are also numerous reports of these units ceasing to work after a short period of time. That and the warranty terms might be good reason to purchase an extended warranty.
Despite these drawbacks, a healthy majority of owners are extremely happy with the Nuwave. It's easy to use and to clean and reportedly does a good job on a variety of foods. It also sells for a very reasonable price, especially if you're in the market for an XL air fryer.
(The link below will take you to the XL size, but on that same page you'll see the option to select the smaller size if you prefer.)
(Back to Top)
GoWISE USA 3.7-Quart Programmable Air Fryer GW22638 Review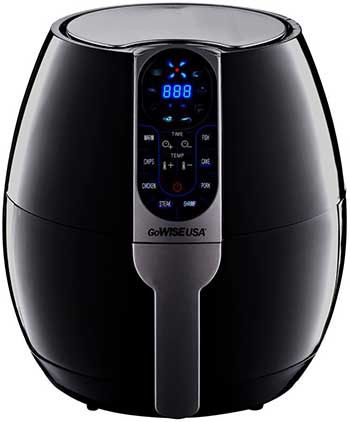 GoWISE USA makes reasonably priced air fryers that have begun to earn a fairly good reputation with consumers. Features of this model include:
3.7 quart capacity
digital touch screen controls
8 cooking presets
adjustable temperature (175° – 400°)
30 minute timer
dishwasher safe parts
optional Baking Cake Pan available (sold separately)
1 Year Limited warranty of unit, 30 Day warranty on parts
Wattage: The 3.7 QT Model is 1,500 Watts
Exterior Dimensions: 12.25 x 14 x 11.5 inches
The timer has been improved (from the original GoWISE models) so that it will pause when you remove the basket to check or shake food.
There is no mention that this model includes a button guard on the handle. The purpose of such buttons is to prevent you from releasing the basket before you're ready, but I wouldn't consider that a major factor. I have extensive experience with Philips models, and I can't imagine how anyone would accidentally release the basket.
There are some reports of units being defective upon arrival, as well as units that malfunctioned within a month or two. As usual, many more of the complaints are from people who don't like the results. These cases have nothing to do with product quality. If you are new to air frying, you'll get much better results if you spend a few dollars more and get a good cookbook.
In fact, this particular model includes a booklet with 50 recipes. Manufacturers are not typically the best source for cookbooks, but hopefully there is enough information to get you started.
At this point over 80% of GoWISE owners have given this model a 4 or 5 star rating. If you're willing to take the time to learn the cooking method, chances are that GoWISE can meet your cooking expectations.
The failure rate on this model might be a concern, but it is so inexpensive that you can easily add on an extended warranty plan.
(Back to Top)
---
Other Air Fryer Models – Quick Comparison Chart
While those above are the top 5, they aren't the only choices. Below are 4 more that might be worth a look. Some are fairly new on the scene. Others are names you'll recognize because they've been so heavily marketed.
These are included here because smart shoppers often like to explore lots of options before making a final decision. In fact, seeing a few details at a glance can help you quickly eliminate those that you don't want to research any further.
(Back to Top)
Brief Reviews of Other Air Fryer Models
Avalon Bay AB-AirFryer100B Review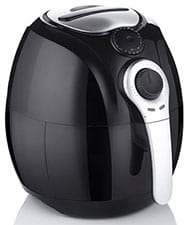 The AB-Airfryer100 from Avalon Bay is made by a lesser known manufacturer, but it's also a less expensive option. It usually sells for just over $100, which makes it a real bargain since it now includes the Baking Dish and Layer Rack accessories.
This is a 1,400 Watt unit with 3.3 quart interior capacity, and it has lots of nice features:
30 minute timer, automatic shut-off with alert
adjustable temperature control
top carrying handle, non-slip feet
some dishwasher safe parts
available in 3 colors – black, white, or red
This model gets high marks for simple operation and easy cleanup, but opinions about performance are mixed. The consensus is that this unit works great on pre-packaged frozen foods, but cooking from scratch can be difficult. For instance, homemade breading may not always cook evenly or completely.
Of course, part of that may be due to inexperience. It may take a little practice to discover the ideal settings for the results you want. In fact, lots of owners who reported problems cooking fresh foods still liked this model enough to give it 5 stars.
Overall, 85% of owners are happy with their purchase. The Avalon Bay certainly has an attractive price, and its size and features are comparable to more expensive models. If you don't do a lot of cooking from scratch, this might serve your purposes.
Click here to read our complete, detailed review of the Avalon Bay AB-AirFryer100B
(Back to Top)
Black & Decker HF110SBD Review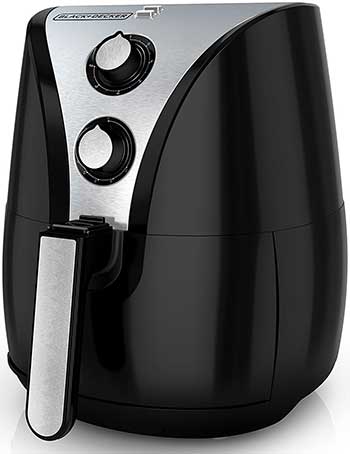 The Black & Decker Purifry is one of the somewhat newer models available. At this point online feedback is limited, but so far it has earned an average overall rating of 4.4 from consumers.
This 1,200 Watt unit has a cooking capacity of 2 liters, and features include:
adjustable temperature (manual controls)
60 minute timer with bell alert and auto shut-off
some dishwasher safe parts
2 year limited warranty
Most of those who complain about this unit are unhappy with taste, and it's pretty clear that the majority of these people were expecting the exact flavor of deep fried. There are, however, a few who have actually tried other air fryers, and those people feel that compared to some other brands the Black & Decker isn't quite as reliable for producing consistently good taste.
Another source of discontent is that actual cooking capacity is smaller than expected. For instance, even though the basket will hold 2 liters, you can't fill it full with French fries or they will not cook evenly. In fact that is an unfair criticism because this is true of any air fryer you choose.
There are also a few complaints about defective units, but customer service gets lots of positive comments. Indications are that if you do have problems you won't have trouble getting in touch with the company.
If you're a Black & Decker fan, this model might be worth checking out. It has all the basic features of a good air fryer, it is comparable in price to the GoWISE and Avalon Bay models, and it carries a longer warranty than even the much pricier brands.
(Back to Top)
T-fal Actifry Review
The T-fal Actifry has two features that make it completely different from its competitors:
Set Cooking Temperature: There is no adjustable temperature control on this model. It cooks everything at 338°F, take it or leave it.
Unique Stirring Paddle: Designed to keep foods constantly stirred while cooking, this paddle is what earns this model its highest praise and also its biggest complaints.
The manufacturer's explanation of the set temperature is that it will "ensure even and thorough cooking of the food". This does not seem to be an issue as there aren't a significant number of complaints about it.
The stirring paddle is quite another matter! Users are split almost equally. Half of them are delighted with the paddle and view it as an extra hand in the kitchen. Whether your making French fries, cooking stew, or roasting nuts, the Actifry does the stirring for you while you tend something else.
The other half of owners complain that the paddle scrapes off breading, tears up soft foods, and can turn something like tator tots into mush. Worse, small foods can jam the paddle. When that happens you have to stop the unit to clear away food and free the paddle. Otherwise it will burn up the motor.
This 1,450 Watt unit has a 2.2 pound capacity, and features include:
countdown timer with buzzer alert
some dishwasher safe parts
The timer on this unit is for convenience only. A buzzer sounds when cooking is finished, but the Actifry does not shut itself off automatically.
Exterior dimensions are 16.7 x 13.6 x 9.4 inches, which makes a big footprint but also gives you a little more cooking capacity than some of the egg shaped air fryers.
There are a lot of pros and cons about this unit, but the people who love it are convinced it is the best ever. It costs less than a Philips but more than most of its other competitors. If you're interested in the T-fal Actifry, you might want to check out our full review for more details.
Click here to read our complete, detailed review of the T-Fal Actifry.
(Back to Top)
Big Boss Oil-Less Fryer Review
The Big Boss is included in this overview because it's the one air fryer brand name that is familiar to most people. It has been widely promoted in TV ads and infomercials, and it became very popular before many of its competitors appeared on the scene.
This 1,300 Watt unit has a whopping 16 quart capacity, and it's about the least expensive air fryer you'll find. It also has the largest footprint with exterior dimensions of 16 x 12.5 x 13.5 inches.
Its features include:
adjustable temperature control
timer
some dishwasher safe parts
About half of owners who have reviewed this product give it 5 stars. They are pleased with the results they get on a variety of foods, and they also love the large cooking capacity and the low price.
Yet while plenty of people are delighted with this model, plenty more are not happy. There are so many complaints about inconsistent results that it's hard to chalk them all up to inexperienced users. Rather, it seems that performance may not be this unit's strong suit.
The biggest problem is that customer service is virtually non-existent. The warranty on this unit is only 30 days, and making a claim is extremely difficult. There is no manufacturer's website with a contact form or email address, and if you call the 800 number in the manual, it's just a recording.
At last check the average overall consumer rating for the Big Boss was 3.8, lower than any other air fryer we've reviewed. That doesn't mean that everyone will hate it. Remember that 50% of people who bought it love it, and you could get lucky and be one of those. At this low price, you could even pay extra for extended warranty protection and still get a real bargain.
Click here to read our complete, detailed review of the Big Boss Oil-Less Fryer.
(Back to Top)
Tips for Selecting the Best Air Fryer
Size: Do you have enough space? Whether your kitchen is tiny or massive, only you can decide whether you have ample room on your counter top. Air fryers are not small appliances, so look at those exterior dimensions and get out your measuring tape. Be aware of what you're getting so that you don't end up with an unpleasant surprise!
Capacity: Generally speaking, air fryers are not crowd sized cookers. You can't load the basket to the top and expect foods to come out nicely browned and evenly cooked. With the average size units, cooking French fries for a family of 4 will likely require a couple of batches. Of course, in part that depends on portion size, and we Americans are notorious for those humongous oversized servings!
Controls: Manual and digital controls work equally well. Many people prefer digital simply because it's what we've become accustomed to. Some digital models offer presets, which can be very convenient or never used. Some will also remember the last settings you programmed, or memorize a setting that you use frequently. The trade-off is that you'll usually pay a little more for digital.
Timer: Be aware that all timers do not work the same. For example, the Philips models have a pause button so that when you stop to stir food, the timer also pauses until you replace the basket and resume cooking.
Compare that to the GoWISE models. When you remove the basket to check food, the unit automatically shuts down. When you replace the basket, the unit automatically resumes cooking, but the timer will be reset to the original time that you programmed into it — On newer GoWISE models the timer has been redesigned so that it will now resume without resetting and losing its place, a huge improvement!
Why does this matter? One reason is that many (maybe most) foods need to be shaken, stirred or turned at least once during cooking. Another reason is that timing is not an exact science, and especially when you're first learning you'll find yourself checking foods often to make sure they aren't overcooking.
To me, a timer that will pause is much more user friendly. However, plenty of other folks don't care one way or the other. It may not be a big deal to you, just something to be aware of before you buy.
Check Out the Top Choices on Amazon:

Large Capacity
Top of the Line: Philips Premium Digital Airfryer XXL with Fat Reduction Technology, HD9650/96
Big Size, Low Price: Nuwave Brio Air Fryer, 6 Quart

Standard Size
Editor's Pick: Philips Digital Airfryer, The Original Airfryer, Black HD9230/26
To Seller, Low Price: Nuwave Brio Digital Air Fryer, 3 Quart
(Back to Top)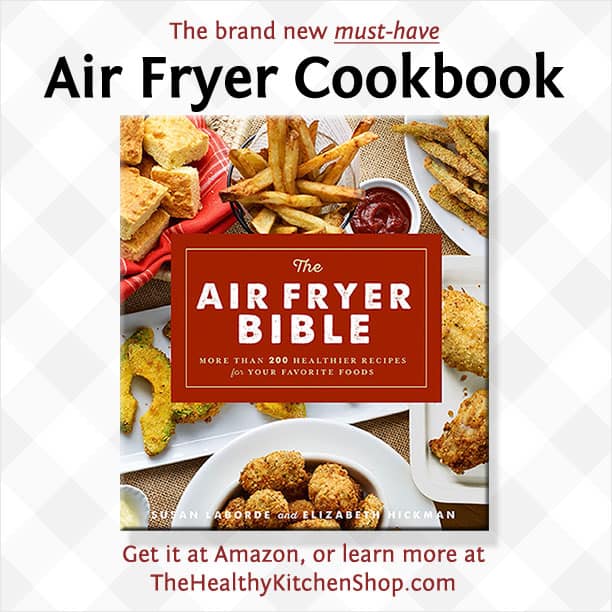 Get it at Amazon
(or Read All About It In This Article)
(Back to Top)