This post may contain affiliate links for products I mention. If you click a link and buy something I may receive some compensation. This does not change the price you would pay.
The largest air fryer models have an average capacity of over 5 quarts, a great size for families. Our comparison chart includes the 7 top sellers from Philips and other name brand manufacturers, and below are all the details you need to help you decide which of these models is right for you.
(Scroll down past the chart to see more detailed information on specific air fryers, as well as links to complete reviews of select brands.)
Large Air Fryer Comparison Chart



Model
Philips Kitchen HD9650/96 Digital Twin TurboStar Airfryer XXL
Philips Airfryer XL HD9240
Simple Living XL Air Fryer
Nuwave Brio Air Fryer
(As Seen On TV)
Power Air Fryer XL
(As Seen On TV)
Air Fryer XL by Cozyna
GoWISE USA Air Fryer XL
Capacity
4 quart
3.5 quart
5.8 quart
6 quart
5.3 quart
5.8 quart
5.8 quart
Digital Controls
Yes (Plus QuickControl Dial)
Yes
Yes
Yes
Yes
No
Yes
Adjustable Temperature
Yes
Yes
Yes
Yes
Yes
Yes
Yes
Timer
60 min
60 min
60 min.
60+ min.
30 min
30 min
30 min
Auto Shut-Off
Yes
Yes
Yes
Yes
Yes
unknown
Yes
Dishwasher Safe Parts
Yes
Yes
Yes
Yes
Yes
Yes
No
Dimensions
(inches)
17.05 x 12.7 x 12.4
16.6 x 12.4 x 11.9
15.78 x 14.56 x 12.59
16.9 x 13.4 x 15.8
14.56 x 13.4 x 14.96
16 x 14.2 x 14
(package)
14.5 x 13.5 x 12.5
Weight
18 lbs
19 lbs
13.29 lbs
17.7 lbs
16.2 lbs
14.77 lbs
15.05 lbs
(package)
Wattage
1,725
1,750
1,800
1,800
1,700
1,700
1,700
Includes
Owner Manual, Recipe App
Recipe Booklet
Recipe Booklet, Cake Barrel Pan, Pizza Pan, Wire Rack
Owner Manual
Basket Divider Insert, Recipe Guide
Cookbook, e-cookbook
Recipe Booklet
Warranty
1 Year Ltd.
1 Year Ltd.
1 Year Ltd.
1 Year Ltd.*
60 Days*
60 Days
1 Year Ltd. on unit, 30 days on basket/parts
Average Customer Rating
4.7
4.4
4.6
4.0

4.2
4.0
4.0
Price Range
$$$
$$$
$$
$$
$$
$
$
See today's Price
Amazon
Price
Amazon
Price
Amazon
Price
Amazon
Price
Amazon
Price
Amazon
Price
Amazon
Price
* NuWave Air Fryer Warranty – Customer pays shipping (both ways, if applicable on an exchange) plus handling charges. Click here to read the NuWave Air Fryer Warranty terms.
* Power Air Fryer XL 60 Day Warranty – At one time this company had warranty terms posted on their website stating that if warranty service is needed, customer must pay return shipping plus a $19.99 handling fee. That warranty has been removed from the site. Terms now remain the same except that the cost of "shipping and handling" is no longer stated. Click here to read what the TriStar company now says about the Power Air Fryer XL warranty.
** Note that other manufacturers now make accessories designed to fit XL size air fryers. See next section.
(back to top)
---
Accessories for Large Capacity Air Fryers
Every manufacturer does not offer accessories designed specifically for its own models. However, you'll find lots to choose from online. Just be sure you're looking at those designed for XL models. Obviously the small accessories will fit, but you want the larger size to take advantage of the extra capacity in your unit. Our two top picks are:
Best Buy – by Hiware
[XL-VERSION] Air Fryer Accessories XL – Fits All 5.3 – 5.8QT – Non-Stick Barrel / Pan + Silicone Mat + Air Fryer Recipes, Compatible with Power Air Fryer XL / Philips Avance XL HD9240 / GoWISE USA XL
I own both Philips and Hiware pans, and the Hiware are excellent quality at a very reasonable price. Side by side, they are identical in every way – design, finish, weight, looks.
UPDATE: At last check these were out of stock on Amazon, but they have not been discontinued so it's worth taking a look.
---
Set with Extras – by Cozyna
XL Air Fryer Accessories XL for Power Airfryer XL Gowise and Phillips, Deluxe Set of 6(+ recipe book), Fit all 5.3QT – 5.8QT and UP
This set costs almost 3 times as much as the Hiware. You do get some extra accessories, but you may or may not use them. I'm not fond of the shallow pan because without a handle, it is very difficult to remove from the fryer when it's hot. The racks can also be fussy and awkward to use. You can't see the bottom layer to check for doneness during cooking, and to turn foods on bottom you have to remove the hot rack.
Muffins are another matter. I bake ALL the time in my air fryer! Personally, I prefer using my silicone baking cups, but you might enjoy having this 7-cup muffin tin.
---
XXL Baking Pan Set – Philips brand
Philips HD9952/01 Baking Master Accessory Kit Pan and Silicone Muffin Cups, for Philips Airfryer XXL models
If you enjoy your air fryer you will love having a baking pan as it gives you so many more great options. This pan measures 9.5″ square (with rounded corners) and 3.5″ deep, and it is made to fit the Philips XXL model.
You can count on Philips for quality, but the bad news is that this pan is expensive. Click the image at right to see it on Amazon. It's also available from Philips, but their price is ridiculous.
Hopefully, Hiware or someone will offer a reasonably priced alternative in the near future. For muffins, Amazon sells silicone muffin cups that are good quality and very inexpensive.
---
---
More Info About These Models
Editor's Pick – Philips
Personally, I am a huge Philips fan because I own two of the smaller models and am extremely pleased with them. Philips is the most expensive brand but for me has proven to be an incredible work horse. During the writing of The Air Fryer Bible my co-author and I literally abused these two machines. Developing over 200 recipes meant running the air fryers almost constantly, day after day, for months on end. After all that, those two units still work like a charm.
For our second air fryer cookbook (which is vegan), my co-author purchased the newer standard size Philips model and has had the same excellent experience with it. Philips has stood the test of time with the public as well. Since the first reviews were written in 2014, average consumer ratings have remained high and even increased in some cases.
Of course there is no 100% guarantee, as even the best manufacturer can produce a lemon now and then. All I can tell you is that I'm so sold on Philips I would never buy anything else.
For full details on these models see our Philips XXL Airfryer Review and our Philips Airfryer XL Review. To check current prices see them on Amazon: Philips XXL Airfryer HD9650/96 — Philips XL Airfryer HD9240 .
(back to top)
Mid-Price Range – Simple Living XL Air Fryer
Simple Living's air fryer is fairly new on the scene. As you can see in the chart, it gets pretty high ratings, and that number is based on just under 500 reviews. That average has remained steady over the past couple of years, so consumer satisfaction has not slacked off.
To date there is no indication of major problems with this model. It's in the mid price range between the high-end Philips and the bargain models, and a 3-piece accessory kit is included in the purchase price.
You may not have seen a lot of marketing for this brand, but it's certainly worth checking out. It continues to earn a good reputation among owners, and the price makes it a good buy for this size model. Click here to see the Simple Living Air Fryer on Amazon.
NuWave Brio Air Fryer
One very popular "as seen on TV" model is made by Nuwave Brio. Though not one of my favorites, this model has a decent number of online reviews and rates well. I know some of those owners personally, and they are all very pleased with the NuWave.
The biggest drawback to this model is its warranty. The terms are briefly noted above, but you may also want to read our Nuwave Air Fryer Review to get all the pros & cons on this model. If you're ready to shop now, click here to see the NuWave on Amazon.
Power Air Fryer XL
Another well known infomercial brand is the Power Air Fryer XL. It's getting fairly good reviews and falls in the mid-price range, much less expensive than the Philips but more than a couple of others.
To my mind, the deal breaker on the Power Air Fryer XL is that it has such a short warranty (60 days), and that the customer has to pay both return shipping plus a $19.99 handling fee.
Despite that this model seems to sell quite well – maybe for the simple reason that it's so highly advertised on TV!
If you want to give it a try, one option you might consider is to buy an extended warranty plan from Amazon. If you do that, be sure to read the fine print to know for certain that your service plan will cover any problems without sticking you with shipping and handling costs.
To check details on both the model and a protection plan, click here to see the Power Air Fryer XL on Amazon.
Note: The price of the Power Air Fryer XL is almost always exactly the same, no matter where you buy it. It is highly unlikely that you'll get it cheaper buying directly from the Power XL website (you may even pay more), and they don't offer any kind of extended warranty plan.
(back to top)
Bargain-Priced XL Air Fryer – Cozyna
The Air Fryer XL by Cozyna has only been available on Amazon since March of 2017, and for a while it was a top seller. It originally earned an excellent 4.4 star rating from well over 1,300 customers, but over the past couple of years that has now fallen to 4.0. It seems to be a decent machine that performs well, but it may not be the best choice for a unit that will hold up over the long term.
The controls on this model are manual, but otherwise it offers all the basic features you'll need. It has only a 60 day warranty (money-back guarantee), but it is priced quite low for an XL model. You might consider spending a few dollars more to add a protection plan.
To get all the details about this model, click here to see the Cozyna XL on Amazon.
GoWISE USA Air Fryer XL
The GoWISE has been around for a good while, but until recently it was always out of stock. There were also reports of the finish coming off the interior of the basket. Purely speculating, one has to wonder if it was unavailable as the company worked on a solution.
Regardless, this XL model now seems to be regularly in stock, and as before it is selling very well. It has earned a 4.0 star average rating, and that is based on well over 1,200 consumer reviews. Note that the company name "GoWISE USA" might be misleading. The company is located in the U. S., but its air fryers are manufactured in China.
To check today's price and availability, click here to see the GoWISE on Amazon.
Summing It Up
If you don't mind spending more and want the best, the Philips is definitely for you. If your budget says no way to Philips, we think the very reasonably priced Simple Living deserves a close look. For a bargain model, the GoWISE has digital controls and a slightly better warranty than the Cozyna.
One thing for certain is that if you're brand new to air fryers you should invest in a good cookbook. Air frying isn't difficult, but it is different. You'll be a lot happier with your new appliance if you have some good recipes designed to work in air fryers.
Naturally, my top cookbook recommendation is The Air Fryer Bible: More Than 200 Healthier Recipes for Your Favorite Foods, co-authored by yours truly. If you're vegan or interested in egg-free or dairy-free cooking, check out The Complete Vegan Air Fryer Cookbook: 150 Plant-Based Recipes for Your Favorite Foods.
To be fair, there are also some very good air fryer cookbooks written by others such as Linda Larsen and Meredith Laurence. We researched to find the best air fryer cookbooks available, and you can read about all of them in our Air Fryer Cookbook & Recipe Guide.
(back to top)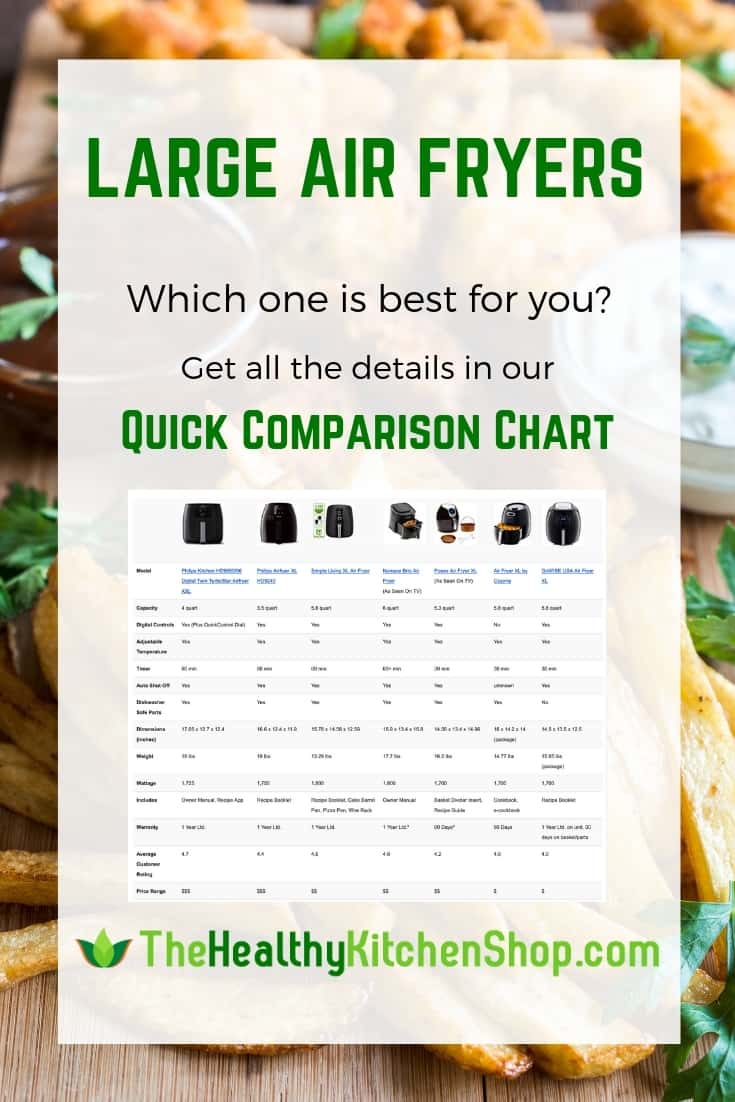 (back to top)